Projects¶
You can enter the Dashboard from the webpage without logging into QualityGate, or by clicking the Go to Dashboard button in the top right corner of the Admin UI.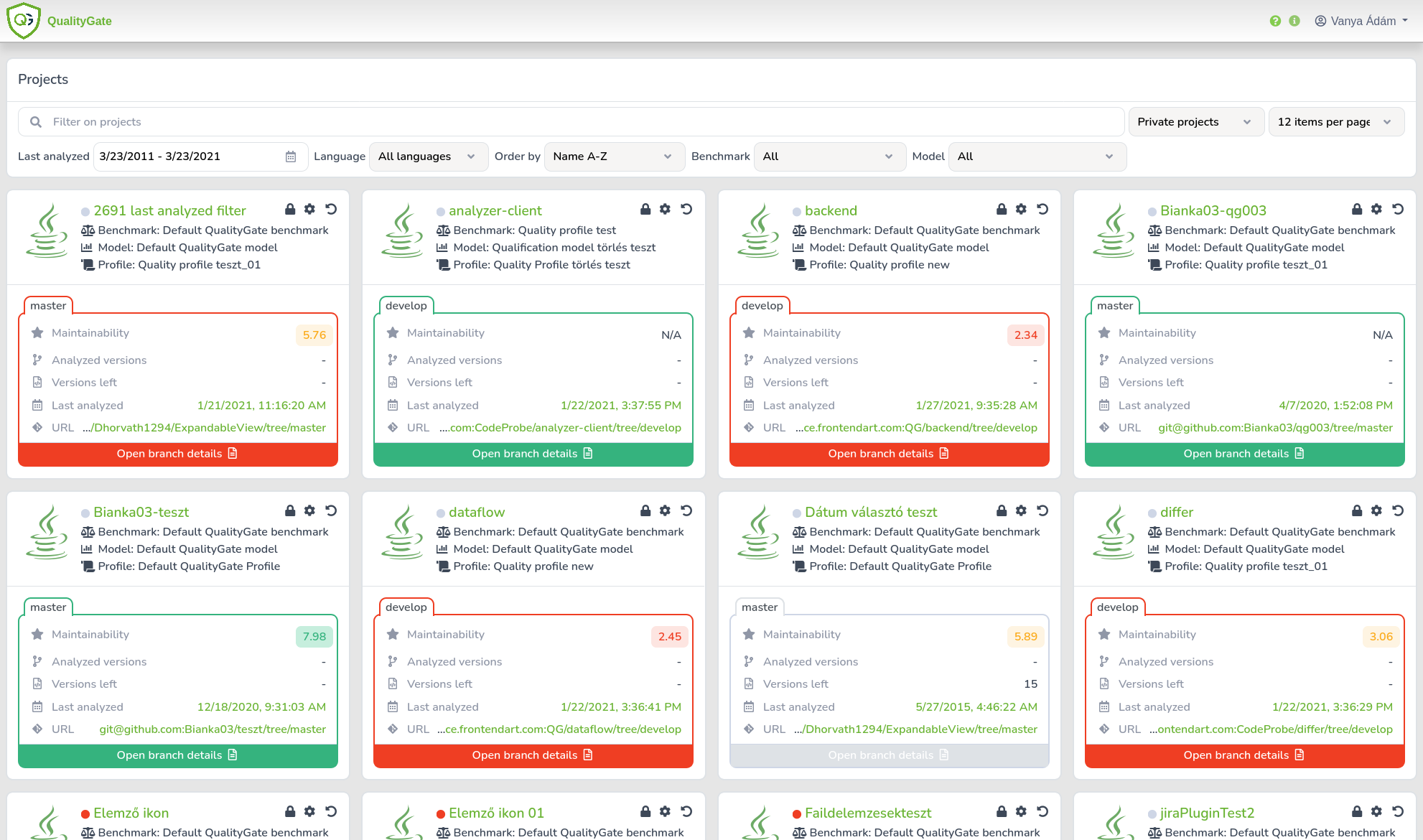 The pageable front of the Dashboard presents you widgets in colored frames of all the available projects inspected by QualityGate. On each widget, there are basic and high-level information about each analyzed project.
The label of these widgets name the branch, with a colored status dot next to it.
A
green
dot means the Analyzer is ready for the analysis.
A
red
dot means an error in the configuration that has caused the analysis to fail.
A
yellow
dot means that an analysis is in progress.
The Maintainability Index is computed according to QualityGate's quality model, with the following factors:
Coding issues
Code complexity
Code documentation
Code size
Code structure
Code duplication
The case of a
green frame
means that the maintainability index is high, the given system's maintainability meets the expectations.
The
yellow frame
refers to a medium maintainability index, thus the given system's maintainability is mediocre, problems may arise.
The
red frame
indicates that the maintainability index is low, the given system's maintainability is bad, and an immediate intervention is recommended to prevent further deterioration.
The
gray frame
means that there is no maintainability index calculated yet.
Versions left: the agent regularly checks for new versions of code to analyze. Here you can see the number of remaining versions to analyze.
Last Analyzed: the date and time of the last analysis attempt.
Qualification chart: if you click in the top right corner and flip a widget, you can see a diagram with high-level quality attributes of the latest versions of all analyzed branches.
Opening branch details gives you a deep-dive into your project's analysis.
Back: Overview Next: Qualification